South High School
Class Of 1969
In Memory
Van Covington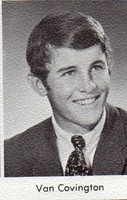 Van M. Covington
"Gone Golfing"
1950-2004
Van Morgan Covington, 53 passed away February 27, 2004 in Salt Lake City, Utah from complications due to a long battle with multiple sclerosis.
Born September 26, 1950 in Salt Lake City to Van Dee and Dixie Vee Morgan Covington. Married Terrie Reavely (divorced) and Terrie Griffiths (divorced).
Graduated from South High School in 1969. Former Branch Manager for Zions Bank. Played collegiate golf for Weber State University. Member of the Salt Lake Symphonic Choir. Van was a very loyal family member and friend. Member of The Church of Jesus Christ of Latter Day Saints.
Survived by daughter Emerri (Jesse) Carillo, grandon, Alexander; mother; and brothers, Troy and Shaun.
The family wishes to thank Arlington Hills Nursing Home and the University of Utah Hospital for their special care. I n lieu of flowers, donations may be made to the Multiple Sclerosis Society.
Funeral services will be held Tuesday, March 2, 2004 at Jenkins Soffe Mortuary, 4760 South State. Interment in the American Fork Cemetery.