South High School
Class Of 1969
In Memory
Charlene Ferre (Napier)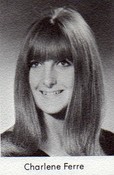 Charlene Ferre Napier
1950-2006
Charlene Ferre Napier our loving wife, mom, gramma and sister passed away peacefully December 28, 2006 with her family at her side. Charlene was born to Keith and Rowena Ferre in Salt Lake City. She married her high school love, John in 1970. They enjoyed nearly 37 years together. She is survived by her husband, John; her children Jason, Janae, her sweet grandaughter, Halen; brother Keith Ferre; sister and best friend Patty; aunts, uncles and other family members; dear friends, Larry Raines, Shallyn Smith, Suzy O'Connor and many others. She is preceded in death by mother and father; sister Geraldine; brother Lawrence, and friend, Nora.
Honoring Charlene's request there will be no services held.
Our hearts hold on to many precious memories of mom. Charlene was full of loving-kindness. She was a selfless woman who always had time for others. Mom enjoyed cooking enough to feed an army. She would make peanut butter squares for Jason, waffles for JaNae and eggs for Dad and their dog, Eisley.
Dad smiles when he remembers how mom always used the excuse she was cold so she could cuddle with him. He never objected. Her little granddaughter remember how Gramma loved to play and snuggle with her. We'll always have great stories to remember thanks to mom.
We are forever grateful we were able to spend two extra years with you. They weren't the easiest years but they gave us some extra memories.
In Loving Memory
This year has come and gone without you. We've cried many tears, we've smiled and laughed as we remember our time we had with you. Every day our hearts are filled with sweet memories and not one single night goes by without thinking of you. This year has sure been one with its ups and downs. We are all trying to get on with life but are learning every day that it just isn't the same with out you. You always loved having us together for a big meal and we are trying to keep up the tradition. You would be so proud of us! Jason and Lisa pulled off Thanksgiving dinner and didn't even blow the legs off the turkey. JaNae is finding that our recipes don't have "a handful of this" and "a pinch of that" wrote in them It's just stuff you knew. Gary's eggs aren't quite yours but dad and Eisley eat them just the same. Dad made your macaroni salad for the famous Christmas Eve buffet this year. We're glad you taught him how. When we celebrated your birthday this year Halen reminded us that you were having your cake in heaven. And then she added, "Can we still have our cake down here?" Aunt Patty misses your visits with her and she takes good care of us. She even shipped dad banana nut bread. Your friends and extended family still stay in touch with and every conversation is filled with happiness as we remember you. We know you've got to witness the creation of your next little granddaughter, Aubrie. We can't wait to meet her.