South High School
Class Of 1969
In Memory
Kerry Foster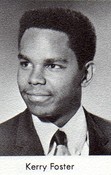 Kerry Foster
1950- 1977
Kerry Wade Foster age 26,
976 Euclid Ave, died February 19, 1977.
Born December 25, 1950 in Salt Lake City,Utah
to Daniel Wade & Bernice Shaw Foster.
Former machinist for AAMCO. Member of the Calvary Baptist Church.
Survivors, parents, brothers, Jay & Barry, aunt Lennie Wells all of Salt Lake City.
Services will be held Tuesday 11:00 AM, Deseret Mortuary,
36 East 7th South, Salt Lake City, Utah
Burial Mt Olivet Cemetary