South High School
Class Of 1969
In Memory
Doug Fox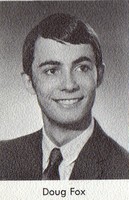 J. Douglas Fox
1950-1995
J. Douglas Fox, age 44, passed away February 24, 1995 in Salt Lake City, Utah. Born October 17, 1950 in Salt Lake City to Jesse Williams and Eva Madsen Fox.
Active member of the LDS Church and served a South Dakota-Northern Indian Mission. Graduated from South High School in 1969 where he was Seminary president. Later attended the University of Utah. He enjoyed serving in church, sports, his work and helping others.
Survived by his mother; a daughter, Jamie Fox of Highland Park, Illinois; two sisters, Betty Joye Bowers and Joan Teasdale.
Funeral services Tuesday, February 28, 1995 at the Grant 3rd Ward Chapel. Interment Murray City Cemetery.