South High School
Class Of 1969
In Memory
Vicky Lujan (Koelliker)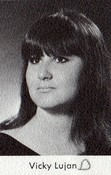 Vicky Lyn Lujan (Koelliker)
1951 -2010
Vicky Lyn Lujan Koelliker, age 59, was received home by her Savior April 2, 2010 in St. George, Utah.
She was raised in Salt Lake City and graduated from South High School class of 1969 and then received her nursing degree from Utah Tech Nursing School. She was a faithful Catholic. Her hobbies included time invested with her grandchildren, traveling, and many hours spent in her office. Vicky's fondest memories included a trip with her mother, niece, and sister to the Oregon coast.
She is survived by: her husband Kim Koelliker, children Robert, Michael (Jean), Sara (Dustin), Jarret, Chantel (Robert), Tami, Trevor, Kyle, parents William and Merla Lujan, nine grandchildren and eight siblings.
The viewing will be held Friday April 9, and the service will follow at the Metcalf Mortuary 288 West St. George Blvd