South High School
Class Of 1969
In Memory
Mark J. McLean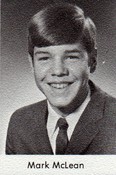 Mark Jackson McLean
1951-1998
Mark Jackson McLean, son, brother, husband, and father passed away at home on September 8, 1998 from complications of diabetes. He was born February 26, 1951 in Salt Lake City, Utah. Mark was a graduate of South High School in 1969. As a faithful member of the LDS Church he served in the California Central Mission and many other callings. Mark is survived by his wife, Claire; four children, Janet, Marci, Kevin and James; his parents Gilbert and Maurine McLean; three sisters and five brothers.
Funeral services will be held Saturday September 12, 1998 in the Liberty Park Ward, 445 East Harvard Avenue, Salt Lake City, Utah. Interment Salt Lake City Cemetery.
Dying's not an awful thing!
A glorious different sphere t'will bring
Live each day the best you can
Whether here or there it's part of the plan