South High School
Class Of 1969
In Memory
Shona Reeder (Brinkerhoff)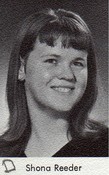 Shona Lee Reeder Brinkerhoff
1950-1997
Shona Lee Reeder Brinkerhoff, 47, passed away Saturday morning, October 11, 1997, at her home, after a long suffering of "ALS" Lou Gehrigs Disease.
Born September 28, 1950 to Don Bruce and Mary Lee Richan Reeder. She graduated from South High School in 1969. She worked at Tracy-Collins Bank and later at Grantsville City Hall for 18 years until her release due to her medical condition. She was a loving person, with a pure heart, who loved people and life itself.
Shona is survived by her only son, Bruce; her mother, five sisters, one brother, three nieces and one nephew.
Funeral services will be held Wednesday, October 15, 1997, at 2 p.m. in the Larkin Sunset Garden Mortuary Chapel. Interment, Larkin Sunset Gardens.