South High School
Class Of 1969
In Memory
Albert Rueckert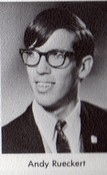 Albert Andrew Ruekert
"Andy"
Albert Andrew (Andy) Rueckert was called home on August 24, 2001, after a courageous battle with cancer.
He was born on April 17, 1951. Andy married Debra Ann Reiley on June 27, 1970 and their marriage was later solemnized in the Salt Lake Temple. Andy was an active member of the Church of Jesus Christ of Latter Day Saints. He worked as life planner agent for Liberty Mutual Life. He graduated from the University of Utah in 1973. Andy will best remembered for his love of the Yankees, and anything related to baseball. He had an unwittingly addictive sense of humor. Andy's greatest attribute is his love for his wife Debra and his love for this family. Andy had an uncanny ability to put his family first in all he did.
He will be missed by his wife, Debra Ann Reiley, his six children, John, Dannah, Brandi, Chris, Richard and James. His mother Goldia Reuckert, his father in law Robert Kirby Reiley, his "shorter" brothers Thomas, Michael, James, David, Robert and Daniel. His sister in laws, Kathleen White, and Kim Reiley and his 50 nieces and nephews. He was preceded in death by his fatther, Albert Adam Rueckert and Bother in law Robert Kirby Reiley11.
Funeral services will be held Monday August 27, 2001 at the Kaysville East Stake Center. Interment Lindquist Memorial Park in Layton.