South High School
Class Of 1969
In Memory
Charlie Schroll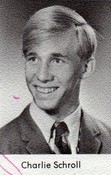 Charles F. Schroll
1951-2003
Our beloved father, grandfather, brother and friend, Charles Fredrick Schroll, passed away peacefully surrounded by family on Sunday, January 26, 2003 in Salt Lake City, Utah at the age of 51.
Charles was born May 18, 1951, in Salt Lake City, Utah to Charles R. and Donna L. Schroll. Charles grew up in Clearfield, Utah until he was 14 when his family moved to Salt Lake City. Charles graduated from South High School in 1969 where he was a member of the diving team. In 1969 he joined the U.S. Navy and served honorably as a corpsman. In 1977 Charles became one of the original employees of Tanner Transmissions, a family business. He served as manager, operations manager and corporate secretary/treasurer for Tanner Transmission until he left the company to follow other pursuits in 1997.
He married Kristy Lee Goodrich April 1, 1982 and was later divorced.
Charles loved the mountains, fishing, snow and water skiing, music, dogs, and gathering with his friends and cooking for those he loved. He had a wonderful sense of humor and will be deeply missed by all who knew him.
Preceded in death by his Parents: sister, Merribeth; brothers, Robert Tanner and Scott Kelly. Funeral services will be held January 31, 2003.