South High School
Class Of 1969
In Memory
John Lowain Casper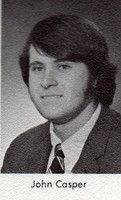 John Lowain Casper
DOB: 24 Jan 1951 in Salt Lake City, Salt Lake, Utah. Son of John Ellis Casper and Audrey Colleen Murdock Casper.
DOD: 2004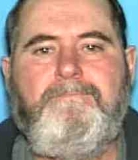 Missing Since05/18/2004
Missing FromSalt Lake City, Utah
ClassificationMissing
Date of Birth01/24/1951
Age53 years old
Height and Weight5'6 - 5'7, 225 - 235 pounds
Distinguishing CharacteristicsCaucasian male. Brown hair, green eyes. Casper wears eyeglasses.

Details of Disappearance

Casper disappeared from Salt Lake City, Utah on May 18, 2004. He was driving a red 1996 Toyota Tacoma pickup truck with the Utah license plate number 720XVG at the time of his disappearance.

Casper apparently traveled through Beaver, Utah; Escalante, Utah; and Barstow, California after he went missing. He may have also been sighted in Wickiup, Arizona. He has never been heard from again. Few details are available in his case.