South High School
Class Of 1969
In Memory
Beverly Thompson (Brown)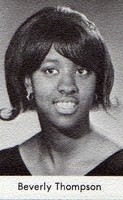 Beverly Ann Thompson Brown
1951-2000
Beverly Ann Thompson Brown, age 49, passed away on Thursday, October 12, 2000 at LDS Hospital.
Beverly was born June 29, 1951 in Wichita Falls, Texas. She was one of five children from the union of Eugene and Pearl Thompson. Beverly Ann Brown moved to Salt Lake City, Utah where she resided until her death. She married Paris W. Brown on September 12, 1975. She is preceded in death by her father, Eugene Thompson.
Beverly worked for the State of Utah for 30 years. She was employed with the Attorney Generals office under Attorney Generals Hansen and Wilkinson for 20 years. She went to work for the Administrative office of the courts for four years and six years for the 3rd District Juvenile Court Probations.
Beverly graduated from South High School in 1969. Beverly returned to college in 1988 where she received her Bachelor of Science degree in 1994 from Westminster College. She continued her education by attending the Graduate School of Social Work and received her certificate in Criminal and Juvenile Justice and Corrections. Beverly was an asset to her community. She has been a member of the NAACP, YWCA, co-sponser of the Ebony Fashion Fair in 1983-1985, co founder of the Security Parents Program of West High School .
Beverly leaves behind her husband of 25 years, Paris Wade brown; two children, Paris Demelirkus and Julian Marcel Brown; two grandchildren Julian Isaiah and Ayanna Denitri Brown; her mother Pearl Thompson Brown (grammy); two brothers Cordell and Vernon Thompson; two sisters Marion Coleman and Sharon thompson Reynolds.
Funeral services will be Thurssday October 19, at Calvary Baptist Church. Interment in Mt Olivet Cemetery. Interment will be in Mt Olivet Cemetery. Funeral Directors evan & Early.
To our beloved wife, mother, grandmother, best friend and lover, your inspiring words, wisdom, friendship, love and respect will be truly missed.