South High School
Class Of 1969
In Memory
Gayle Townsend (Foutin)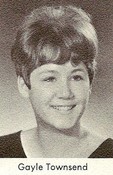 Gayle Hall Townsend Foutin
1951-1999
Gayle Foutin, 47, passed away July 15, 1999 in Salt Lake City, Utah from the devastating effects of a lifelong struggle with diabetes.
She was born September 15, 1951 in Salt Lake City, to Eugene David and Josephine Woolf Hall. She was raised by her mother and stepfather W. Dow Townsend. She married Gary Foutin, of American Fork, November 20 ,1976. He died August 15, 1981.
Gayle was graduated from South High School, where she was the school's STERLING SCHOLAR in business. She later attended Southern Utah University and the University of Utah. She worked in business for many years, and for the last ten years of her life, she was employed at Premier Computing Company, where she was treated like a family member.
She enjoyed literature and history. She also enjoyed sailing, hiking, tennis, bicycling, and cross-country skiing. She was happiest when she was helping others.
Gayle is survived by her brothers, Dennis, and Neil, sister Jill, step-father Dow Townsend. She was preceded in death by her husband, parents and her brother , Bill Townsend.
Gayle was grateful for the kindness of her employers Dale and Julie Potter, her adopted mom Gerry Anderson, the Monument Park 12th Ward, Garfield Cook of the Monument Park stake presidency, for her caring physician Dr. Alfred Cheung and many caring dialysis nurses.
Funeral services will be held on July 20, 1999 and interment at Wasatch Lawn Memorial Park.