South High School
Class Of 1969
In Memory
David Updegraff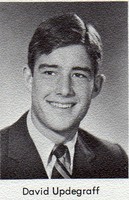 David Howard Updegraff
1951-1972
David Howard Updegraff, 21 drowned May 12, in Neskowin Beach, Oregon. Born January 24, 1951 in Beaver, Utah to James Howard and Iris Delila Brown Updegraff. Served an LDS mission to Peru, 1970-1972. David attended the University of Utah and served as Student Body Vice President of South High School for the 1968-1969 school year. Survivors; parents; brother Milton James, Judith, Marie, Susan, all of Salt Lake City, Utah; grandparents Mr. & Mrs. Howard E. Updegraff, Mrs. Ruby R. Brown, all of Salt Lake City,
Memorial services for David Howard Updegraff 21, whose body was found June 9, at Neskowin Beach Oregon,.where he had been reported missing since May 12. Services will be held Tuesday 7p.m. Richards LDS Ward Chapel, 855 Garfield Ave.
Interment Salt Lake City, Cemetery.