South High School
Class Of 1969
In Memory
Shirley Westley (Seegmiller)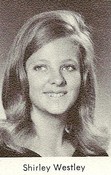 Shirley Westley Seegmiller

1950-1988
Shirley Westley Seegmiller, 37, died April 26, 1988, in a car accident on the Panaca Summit near Panaca Nevada.
She was born August 17, 1950 in Salt Lake City, Utah, to Pauline and Carroll Westley. She married Phillip C. Seegmiller December 23, 1972 in Salt Lake City. The marriage was later solemnized in the LDS Temple. She attended schools in Salt Lake City and graduated from Utah Technical College in Commercial Art. She also attended Utah State University for Fashion Illustration. Survivors include husband Phil; sons Justin Tige (14), Dusty Adam (12) and daughter Trina Nicole (7). Father Carroll Westley of Salt Lake City, Utah. Brothers; Tim, David, and Ernest. Sisters; Ilene, Charlotte, and Janet. Funeral services will be held Saturday, April 30, 1988 at 10:00 a.m. (Pacific Time) in the Panaca Ward Chapel. Friends and relatives may call one hour prior to services. Interment will be in the Washington City Cemetery. Graveside services will be at 4:00 p.m.
Provided to us by Shirley's daughter
Trina Cochrane
God saw you were hurting, the pain was to much to bear, So he put his arms around you, and whispered " come with me", with tearful eyes, we watched you fade away, although we loved you dearly, we couldn't make you stay, a golden heart stopped beating, loving hands put to rest, God broke our hearts, to prove us, He only takes the best.
You never said I'm leaving, you never said goodbye, you were gone before we knew it, and only God new why, a million times we needed you, a million times we cried, If love alone could have saved you, you never would have died, In life we loved you dearly, in death we love you still, in our hearts we hold a place, that no one could ever fill, it broke our hearts to lose you, but you didn't go alone, for a part of us went with you, the day God took you home.