South High School
Class Of 1969
In Memory
Steve Wilde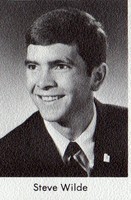 Steve Wilde
December 2, 1950 November 23, 1979
Steven Wilde, 28, died November 23, 1979, in a Salt Lake hospital of leukemia.

Steve was born December 2, 1950 in Salt Lake City to Betty Figgat and Pat Wilde. He served a mission to French Polynesia (Tahiti), and married Cynthia Shields, August 9, 1973, in the Salt Lake Temple.
At the time of his death he was serving as the elder's quorum president of his ward.

Steve graduated from South High School and magna cum laude from the University of Utah. He was a practicing physical therapist. He was a former member and Board Director of the Utah Chapter of the Arthritis Foundation, and a member of the American Physical Therapy Association.

He is survived by his wife; daughters, Jacquelyn, Marianne, and Suzanne; his parents; sisters, Ann (Dan) Hymas, Jan, and Mary, all of Salt Lake City.

Funeral services held Monday, November 26, 1979, in the East Millcreek 16th Ward. Interment, Wasatch Lawn Memorial Park.